Don't Let Stigma Prevent Getting Help
Fact: One in five adults in the United States experience a mental health condition in a given year.
Fact: Half of all lifetime mental health conditions begin by age 14.
Fact: Suicide is the 10th leading cause of death in the United States.
These are sobering. But here is another fact:

Mental health conditions are treatable.

Mental Health Awareness Month raises awareness about recognition, treatment and recovery, and why it can be far more successful. One of the largest hurdles to mental wellness is addressing the stigma surrounding mental health.
School Will Be Out Soon, But Bullying Persists
School will be out soon for the summer and is already out in some parts of the country, but that doesn't mean kids are always safe from each other. Kids and teens have more unstructured time in the summer, both in and around their neighborhoods and at day or sleepaway camps. This creates a wonderful sense of freedom and space, but it can also leave room for bullying.
Cyberbullying
is also of special concern in summer, when kids often have more screen time and less supervision.
We all want our youths to be happy, safe and healthy. To help prevent bullying, parents and caring adults should learn how to recognize the signs and how to intervene. Bullying happens when someone repeatedly asserts his or her power by being aggressive toward a weaker person. The aggressions can be physical, verbal, or relational. And bullying commonly occurs when adult supervision is limited. Cyberbullying is on the rise, where bullies torment others online, often anonymously.

Social media sites do not allow users under the age of 13 on their sites, yet kids under 13 find a way onto social media. Some parents register their young children on social media just because their kids' friends have accounts. That is simply the wrong thing to do. These sites require kids to be 13 or over because kids younger than 13 are simply not mature enough to handle what can transpire on these sites.
Look for signs of summertime bullying:
Making excuses to not go to camp, sports practice or other gatherings.

Unexplained bruises, torn clothing or missing belongings.

Problems with sleep or appetite.

Secretive/sullen behavior or outbursts of temper.

Seeming upset or depressed after using the Internet or a mobile phone.

Losing interest in using the Internet, social media, computer or a mobile phone.

Bullying younger kids (bullied children may switch roles and become the bully).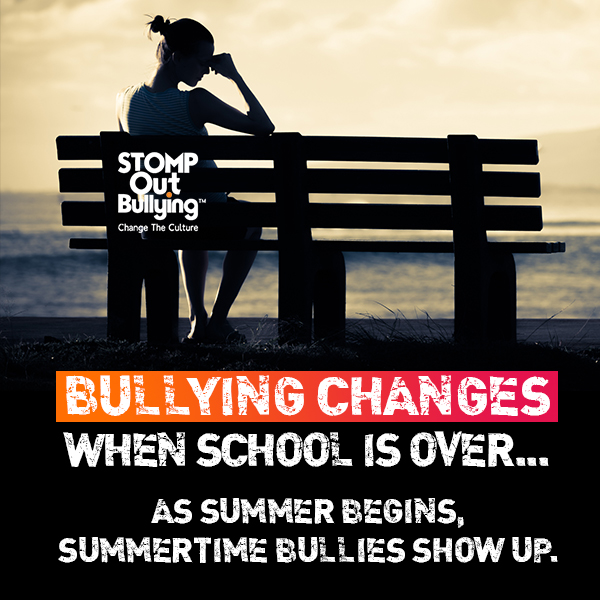 How to counsel and intervene:
Never tell your kid or teen to ignore bullying or to retaliate.

Talk with them. Ask what's going on at summer school, camp or online and how he or she is feeling.

Don't criticize how your son or daughter handled the bullying. Help him or her come up with safety strategies, such as telling an adult, walking away or asking friends for support.

Teach self-respect. Confident youths are less likely to become victims.

Encourage friendships and building social skills. Bullies tend to go after kids and teens who are alone.

Let the summer program or camp authorities know about your safety concerns.

Report cyberbullying. Save copies of abusive posts or texts, and notify the appropriate summer program personnel that these activities are taking place.
Take these considerations into the summer months, and you will be helping your child address - and ideally prevent - summertime bullying issues. If you do know a youth is going through a tough time, refer them to our
HelpChat Line
which will be open all summer. Live, trained volunteers are available to help youth, ages 13-24, through issues surrounding bullying and suicide.
https://securedonate.stompoutbullying.org/np/clients/stomp/login.jsp
https://securedonate.stompoutbullying.org/np/clients/stomp/login.jsp